Weifang Henglida Steel Structure Co., Ltd. Supply the container house, office container, container building, container office, labor camp container, accommodation container, cabin container, prefabricated building container, folding container, flat pack container, modular container, mobile house, portable house. Demountable flat packed Container, movable office, portable container.
Specification:
Office containeris designed and developed according to the standard size of shipping container. It is of heatproof and waterproof. It is widely used as office, meeting room, dormitory, shop, booth, toilet, storage, kitchen, shower room and so on
Characters:
1) Good ability to assemble and disassemble for several times without damage.
2) Could be lifted, fixed and combined freely.
3) Heatproof and waterproof.
4) Cost saving and convenient transportation (Each 4 container house can loaded in one standard container)
5) Service life can reach up to 10 - 15 years
6) We can provide the service of installation, supervision and training by extra.
Technical Parameter:
Size: GP20, GP40 and HP40 of shipping container
Wind Resistance: Grade 12
Wall permitted loading: 0.6KN/ m2
Ceiling Permitted live loading: 0.5 KN/m2
Wall Coefficient of thermal conductivity: K=0.442W/mk
Ceiling Coefficient of thermal conductivity: K=0.55W/ m2K
You are so welcome to send us inquiries!
Certifications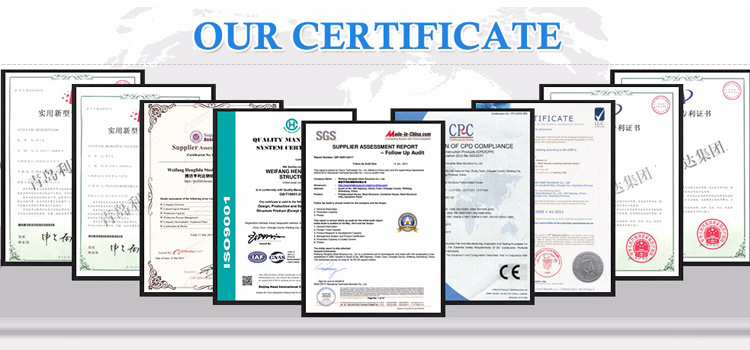 Company Information


Our Weifang Henglida Steel Structure Co.,Ltd.( Lida Group) is one of the largest manufacturers of the
prefabricated house, Flat Pack container house, LGS steel villas, and steel structure warehouse
in China. We have been doing well in this field for more than 21 years, and we have exported our products to more than 90 countries as well as our domestic market with ISO9001, CE and SGS approval.
Best regards
Steven Chen
---------------------------------------------------------
Weifang Henglida Steel Structure Co., Ltd.
Add: Room1102, Unit B, Zhonghui Commercial Building, Qingdao, 266000, China